Introduction:
InterGlobe Real Estate Ventures Pvt. Ltd., DLF Corporate Park, DLF City, Phase II, Gurugram, Haryana -122002, is a prominent Indian conglomerate company with a large workforce. They were concerned about the health and well-being of their employees due to poor IAQ within their office premises. They needed a solution that would allow them to monitor and check the air quality data on a single screen, and ensure a healthy work environment for their employees. This case study focuses on how Prana Air's solutions helped InterGlobe achieve ideal solutions for their air quality monitoring needs.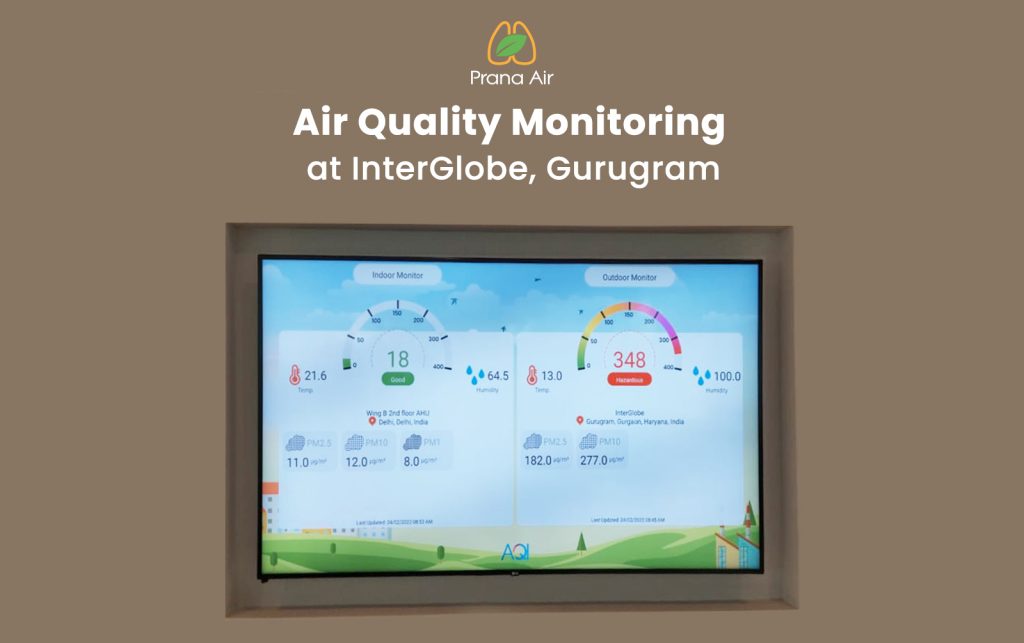 Challenge:
The task at hand was to develop an overall solution capable of efficient monitoring. Along with aggregating air quality data from various locations within the facility. In addition, the solution needed to incorporate a platform for showcasing company/brand videos alongside air quality data.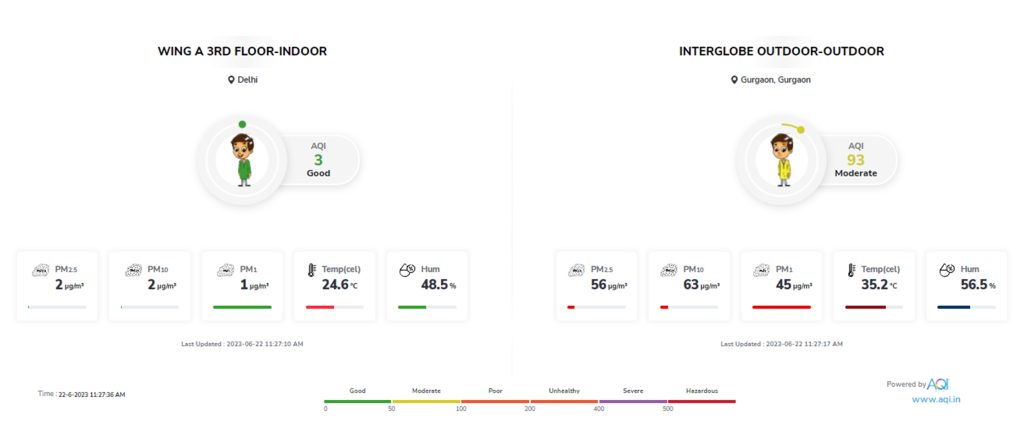 Solution:
We provided Interglobe with 8 SQUAIR air quality monitors to monitor the IAQ. These monitors were placed at strategic locations to ensure that the air quality data was collected accurately. We also created a dashboard that combined the data from all 8 monitors. The data of selected monitors on the screen provides a customizable and user-friendly experience. This feature enables users to focus on specific areas or rooms and make informed decisions based on the consolidated data. Additionally, the dashboard also allows for easy access to historical data for analysis and comparison. This allowed Interglobe to monitor the air quality data in real-time. Furthermore, this helped in taking the necessary steps to maintain a healthy work environment.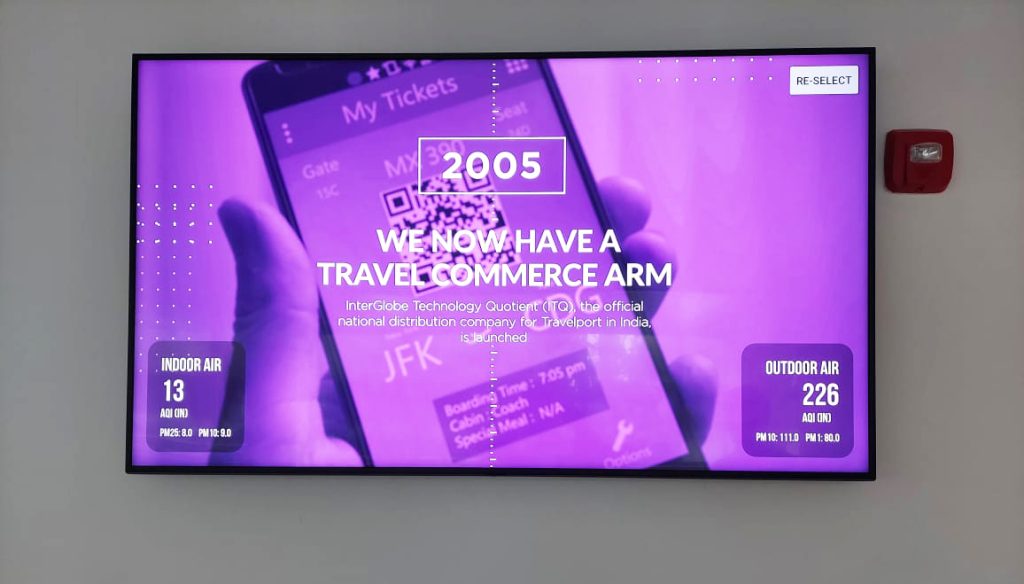 Furthermore, we provided a theme for Interglobe. This theme allowed them to showcase their company videos along with the air quality data on the dashboard. This kept their employees informed and engaged, creating a positive work environment. In addition, we also provided 1 outdoor monitor to compare the IAQ with the outdoors, providing a detailed view of the air quality situation. The user can select from multiple themes on how they want to showcase their air quality data. Indoor and outdoor comparison of air quality enables efficient air quality monitoring. In addition to that, further mitigation strategies and their implementation become easier.
Conclusion:
Interglobe found our IAQ monitoring solution to be highly effective in monitoring and maintaining the air quality within their premises. By consolidating the data onto a single screen and enabling easy comparison between indoor and outdoor air quality, Interglobe was empowered to create a healthy and safe work environment for its employees.
With Prana Air's solution, Interglobe gained real-time insights into various air quality parameters such as PM2.5, PM10, CO2 levels, and more. This allowed them to promptly identify any potential issues and take proactive measures to improve air quality.
By having access to accurate and reliable air quality data, Interglobe was able to make informed decisions. They could implement targeted strategies to enhance the overall indoor environment.
Furthermore, the data was easily accessible to the staff members providing them with insights into the air quality. This increased awareness and engagement among the workforce, fostering a culture of health and well-being within the organization.
Overall, Prana Air's IAQ monitoring solution proved instrumental in helping Interglobe prioritize employee health. It created a conducive workspace where everyone can thrive.