Prana Air is the proud associate of a study undertaken by Ola and Microsoft. We built custom-made PM2.5 monitors with a live dashboard for real-time street-level air quality monitoring of the Delhi-NCR region via a fleet of Ola cabs. We managed the research, design, creation, and delivery of the devices in record-breaking time!
Background
The vehicular emissions and the entrapment of particles due to the Urban Heat Island effect have concocted a vicious mesh of pollutants over the streets of Delhi-NCR. The impact of street-level pollution has increased multiple folds in the last few years, leaving the citizens gasping for breath and prompting the authorities to call for extreme measures. The worst hit by this atrocity is the pedestrians and those travelling by two-wheelers. Most air quality sensors that monitor the ambient air quality are not indicative of the pollution at the street level. The enigma of the unavailability of breathable air and the lack of reliable data continue driving researchers to pursue research in this domain. Microsoft Research India extended their hand to the cab-hailing unicorn Ola in support of Ola City Sense, a program to provide data-based insights to cities.
Challenge of Street-level Monitoring
Ola Mobility Institute aims to conduct a pilot study to collate heterogeneous data based on data points panned throughout the city over a year. The principal objective of this pilot study is to monitor real-time street air quality. They intend to make the data accessible to the public for the benefit of researchers and policymakers. To facilitate this vision, the required sensors to monitor the PM2.5 levels inside and outside the vehicle along with traffic and speed data to provide information on 'bad' air quality hotspots. This challenge was to efficiently monitor the particulate concentration both inside and outside a moving vehicle!
The Solution
Prana Air is a proud contributor to this Ola-Microsoft collaboration. We created custom-made instruments to cater to the requirements of the project.
Prana Air delivered the customized devices in record-breaking time. Each instrument comprises a set of sensors and a GPS tracker. We explicitly designed them to measure PM2.5 levels in a mobile vehicle. The monitors record the concentration of particulate matter (both inside and outside). Moreover, the GPS tracker helps to map out a coloured trail. The trail corresponds to the designated colour scheme of air quality standards. We also curated a dashboard to access all the data. Subsequently, a fleet of cars was selected based on complex algorithms for coverage of a sizable area. Then, they installed the devices into those cars.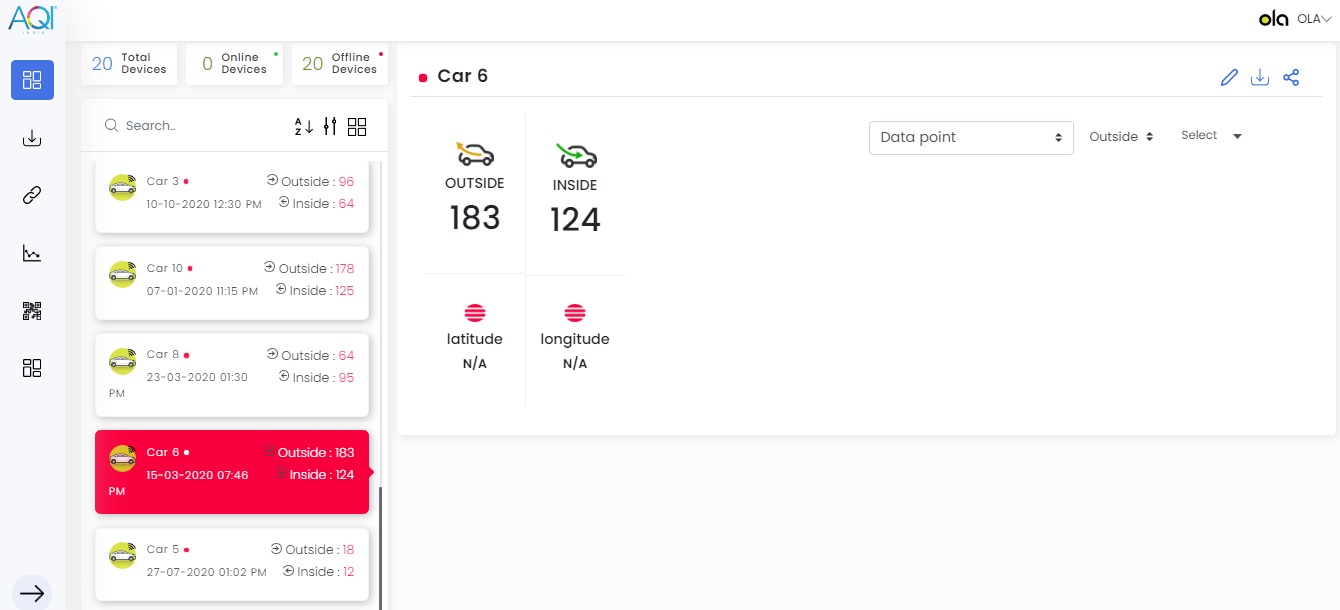 Thus, we did not just overcome the challenge but also created a benchmark in terms of delivery.
To check our range of products, visit https://www.pranaair.com/
To keep a tab over what you are breathing, visit https://www.aqi.in/