Air Quality Solutions For Real Estates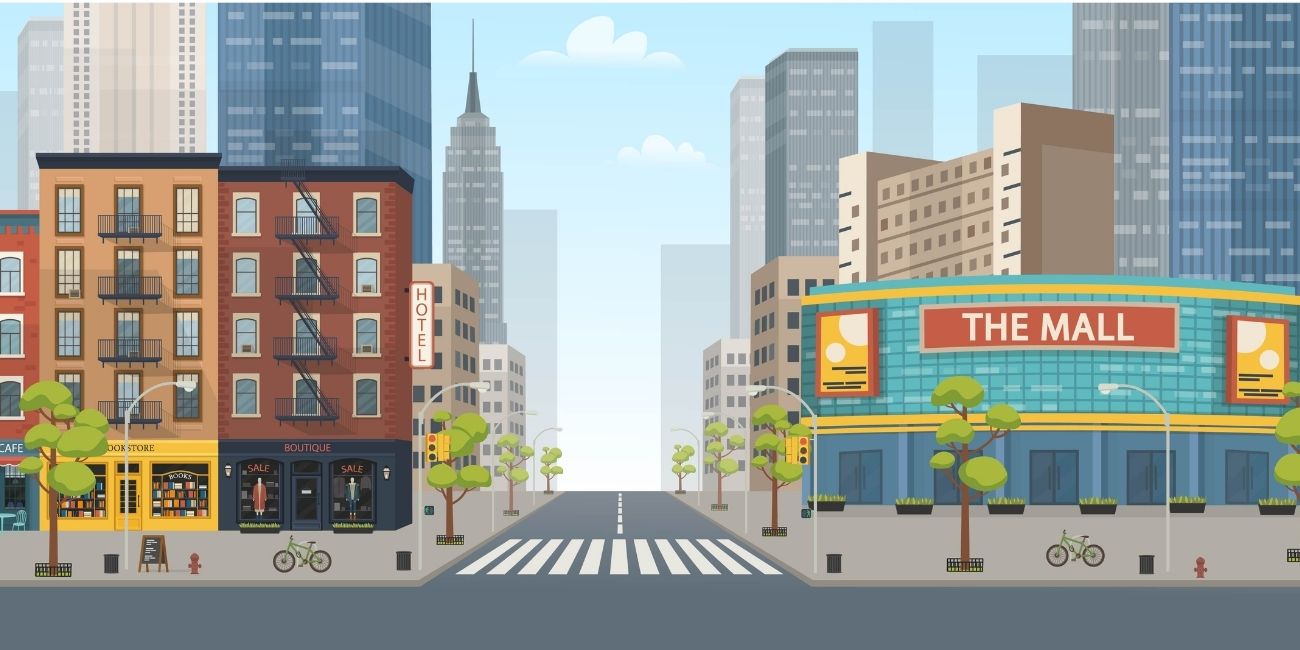 Air Quality Problems In Residential Areas
It's a built environment where people spend most of their time. Problems like odor, high levels of CO2, dust, sulphides etc are faced by people.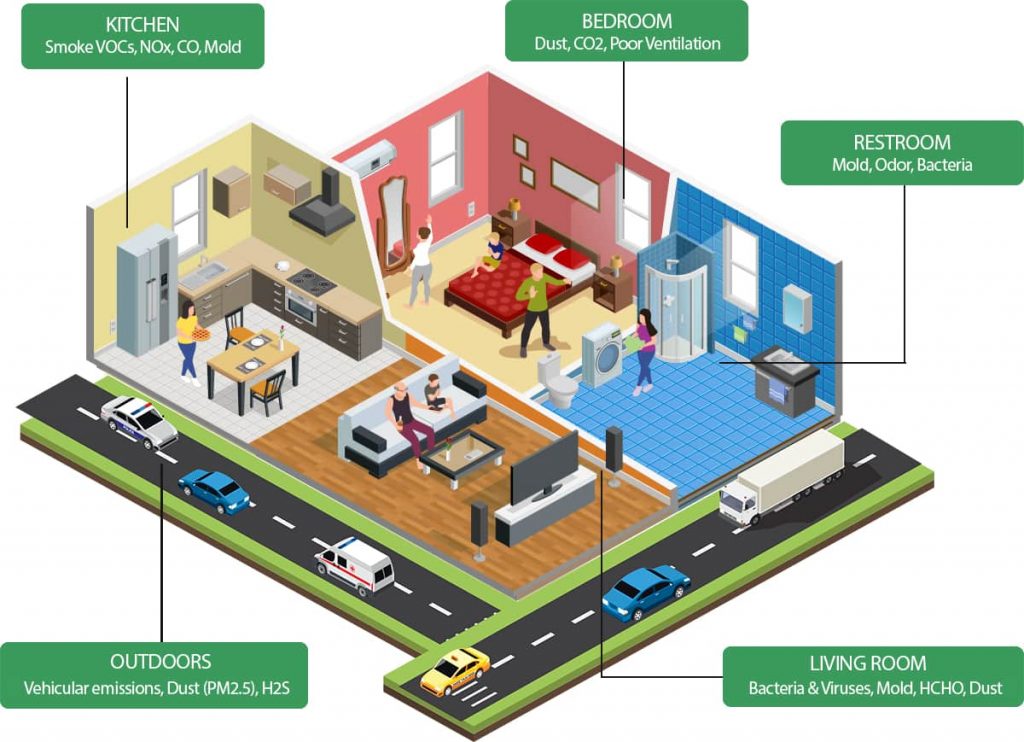 Air Pollution In Malls
It's a built environment where people go to fresh their minds but here also they experience problems such as odor, dust, breathing discomfort in parking lots due to vehicular emissions.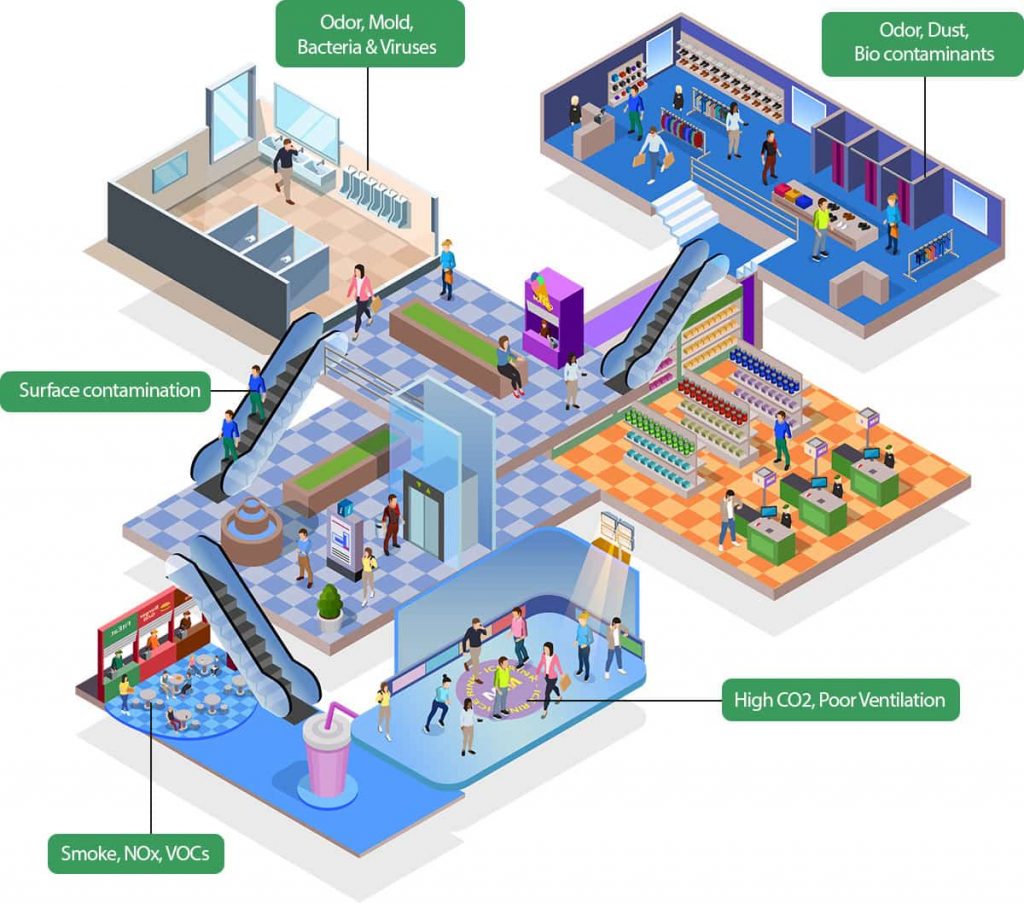 Carbon Dioxide
Excess of CO2 level reduces brain activity, productivity, increases chances of coronavirus transmission (depending on viral load), increases heart rate, increases blood pressures, convulsions, restlessness, headache, loss of attention and confusion.
Particulate Matters

Too much exposure with PM 10 and 2.5 leads to respiratory illness like irritation of the airways, coughing or difficulty breathing, heart or lung disease, nonfatal heart attacks, irregular heartbeat, asthma, reduced lung function.
Odor
Exposure to VOCs can cause skin, eye, throat and nose irritation. Strong odor can cause headache, nausea, and reduced coordination. It can also impact the liver, kidneys and nervous system of the human body.
Bacteria, Viruses & Molds
These are biological contaminants and have negative impacts on human health. Molds can lead to throat and eye irritation, nasal stuffiness, cough, and wheezing, as well as skin irritation in some cases. It also leads to heightened sensitivity depending on nature and time of exposure.
Carbon Monoxide
Inhalation of CO gas by human body leads to carbon monoxide poisoning. It inhibits oxygen binding with haemoglobin, flu, nausea, vomiting, fatigue, chest pain, headache etc.
Sulfides
The gas has a bad and foul smell of rotten egg. This gas can cause leakage in AC, affect electrical appliances and server rooms. The inhalation of this toxic gas can result in eye, nose and throat irritation, headaches, dizziness, etc and when exposed for prolonged periods to high levels may lead to shock, coma and death.
Impeccable Air Quality Solutions For Indoor 
With the increasing toll of indoor air pollution and its significant impact on human health, Prana Air provides a wide range of services and solutions for air quality monitoring. The services include Air Quality Monitors, Fresh Air Machines and PCO cell based air sanitizers.
It helps you to know the quality of air present. Monitors are installed with special sensors that continuously monitor the concentration of parameters like particulate matter, carbon dioxide, HCHO, tVOCs. They are cost effective and easily portable. Monitors the key parameters in Real-time that are in sync with LEED, WELL and ASHRE and monitors parameters like PM10, PM2.5, PM1, CO2, TVOCs, HCHO, CO, temperature and humidity.
Fresh Air Machine As The Solution
It filters pollutants in the indoor environment and gives clean air. It contains carbon layers and HEPA filters of 12-13 grade. It reduces regulation of bad air and increases fresh air regulation. It is easily installed in pre-constructed buildings. It turns on itself whenever the pollutants range exceed the adjusted levels. The Clean Air Delivery Rate (CADR) for formaldehyde is 200 m3/h and for PM is 200 m3/h. The coverage area is 24-41m2 with 99.05% filtration rate for PM 2.5, bacteria and virus.
Fresh Air Machines are installed in premises that are not installed with traditional filtering methods.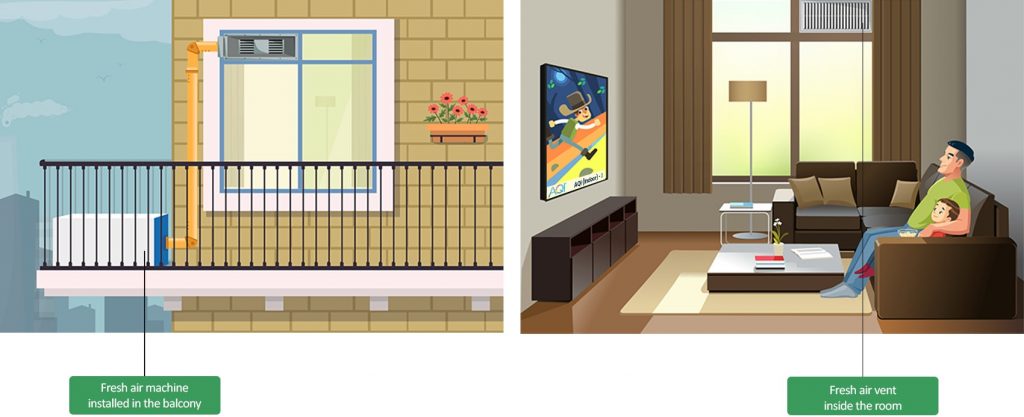 PCO Cell Based Air Sanitizer
The sanitizer is based on Photocatalytic Oxidation technology which combines UV-C irradiation with a catalyst and removes the harmful biological contaminants such bacteria, virus, fungi & mold, and spores in a time span of less than 24 hours with efficiency rate of 99.99%. It is capable of killing SARS-COV-2 virus through molecular dissociation. Molecular dissociation kills the pathogen at its genomic level and is an irreversible change.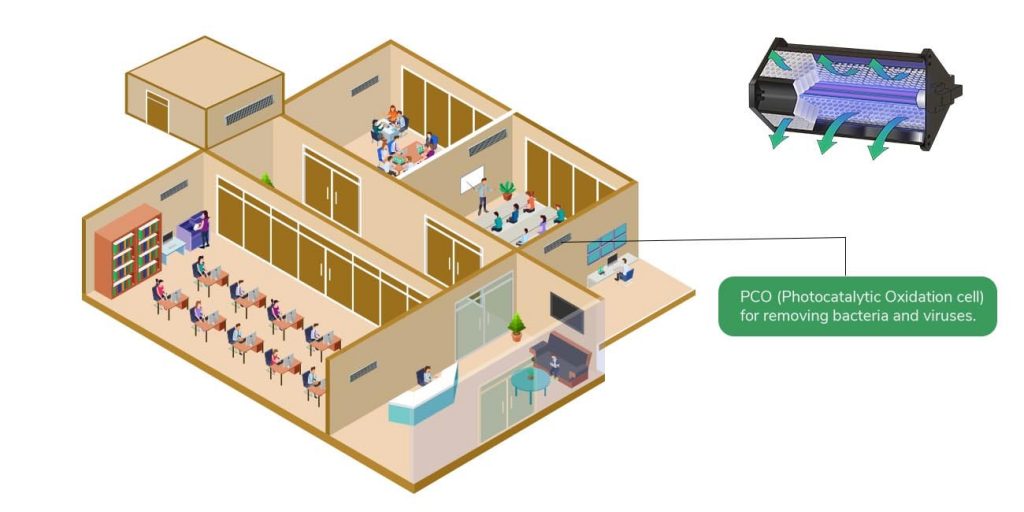 How Can These Services Help Real Estate Businesses?
These services will help the real estate companies in servicing the best healthy air quality in Education, Environment, Social Infrastructure, Healthcare, skilling & employment as their intervention areas.
– Monitoring will help continuous check on the quality of air the people in offices, mall and residential building are breathing.
– Lower the chances of asthma, Cardiovascular Obstructive Pulmonary Disease, emphysema and other health impacts.
– Our air quality solutions will help old people to breathe quality air and reduces their discomfort.
– Low maintenance cost as fresh air machines are installed in pre constructed and newly constructed buildings.
– The solution we provide will help reduce the impact of bad indoor air quality on child's Intelligence Quotient (IQ) and growth.
– CO2 monitoring helps in reducing sealing chances due to rise in covid-19.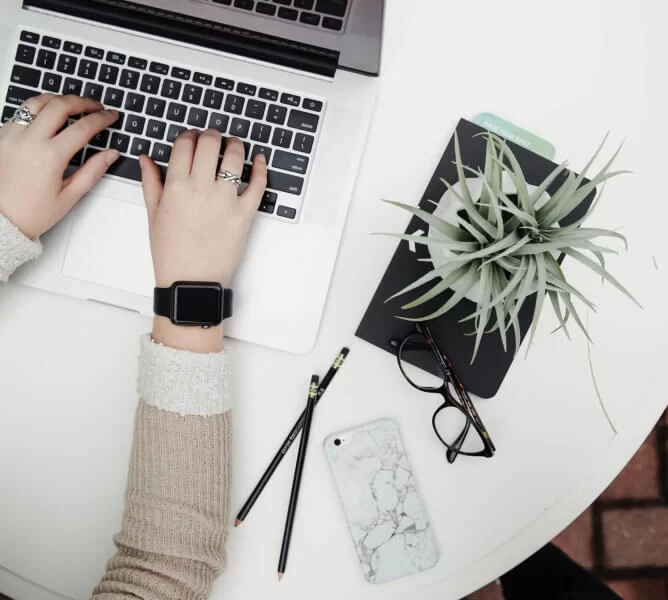 Request A Quote
Contact us for more details about the air quality solutions.
Drop a message
Our Clientele
We are the proud collaborator with some of the reputed names of different industries.

It is very crucial to monitor air quality in hotels because it directly impacts the experience of guests and occupants. Suffocation, bad odor, breathing difficulties, etc., are all signs of bad air quality in hotels.
The major problem at airports for air quality is emissions from aircrafts and high number of occupants. There are many departments at airports which contribute to air quality such as sanitation, sewage treatment plants, parking garages, aircraft operations etc.
Air Quality Data on Air Conditioner
The major pollutant in rooms with air conditioners is CO2 as all the doors and windows are closed with moderate occupancy. Monitoring can help them in adopting some preventive measure to improve indoor air quality and reduce negative health impacts.
In today's era, smart phone is like 207th human bone without which nobody can function. The access to air quality data on smart phones can help people in identifying the areas having poor AQI along with the concentration of pollutants.