Every day, we start our day from our doorstep to our workplace. We breathe air to live, fresh air is a requirement for all living creatures. The quality of the air we breathe affects our health to a large extent. Nowadays, air pollution is a big issue everywhere. Whether it is indoor or outdoor air pollution, it doesn't have a big difference. Indoor pollution is as dangerous as outdoor.
According to WHO report, 8 million people die every year due to air pollution in the world. Out of it, 4.2 million is due to outdoor and 3.8 million is by indoor pollution. As a matter of fact, till March 2022, the number of deaths due to COVID19 pandemic is around 6 million which is less than the number of deaths by air pollution (Source: Google). Knowing the fact, it is still being ignored around the world, like it is not a big concern.
Role of AQI Air Quality App
As an individual, there are many things you have to take care of yourself to get rid of unwanted air pollutants. AQI mobile application can help you track the quality of the air you breathe everywhere you go around the world. You can also get real-time data as well as historic data on how the trend has been since the last few days & weeks.
Salient Features of the App:
Free Real-time & Historic Data:
It is free for everyone to check the outdoor air quality of your location, city, state & country with real-time & historic trend.
AQI Pollution Map:
You can check the air pollution level of nearby locations & cities, and explore more overall around the world. You can learn more about the air quality.
Health Advices:
According to the AQI status, it will tell you what you can do for indoor & outdoor activities. You can take the precautions as per the Air Quality Index (AQI) status. From staying indoor at home & office to outdoor activities (walking, sports, travelling, etc.), you will know what you have to do and how you can avoid the air pollution through this mobile application.
AQI City & Country Ranking:
You will find your city or country's air pollution ranking in real-time and know the differences of how bad or good your city or country is from the others.
Insightful Data Dashboard (Public & Business):
The dashboard with graphical representations will give you an insightfull study of the air quality. There are two tyes of dasbhoards, one free for public and one paid for business customers. Business customers have to integrate the air quality monitors they purchased from Prana Air and access the data anywhere anytime remotely on the app.
The AQI app is available for both android app store and iOS app store.
– Android AQI app on Google playstore
– iOS AQI app on Apple playstore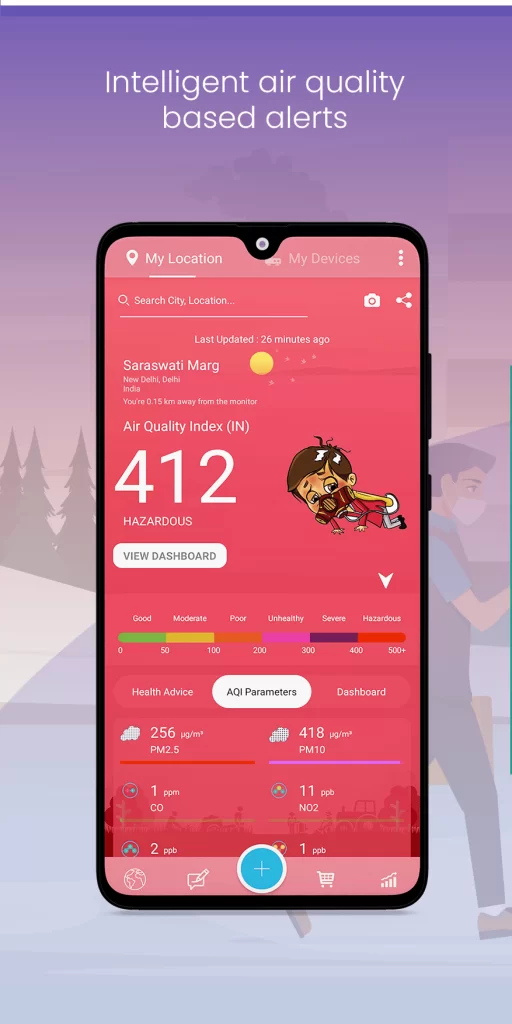 Precautions That You Can Take Care Of
According to the AQI data, everyday you can decide whether you will need to wear a mask or not before you go for any outdoor activity.
You can schedule the travelling plan earlier.
For business cusotmers, if your are inside your home & office or indoor, you can check the air quality inside using an air quality monitor with the app. And you will know whether you would need an air purifier / fresh air machine or not.