Introduction
The major difference between fog and smog is that fog is a naturally occurring event generally witnessed during winters. Whereas smog is a mixture of smoke and fog. Improper handling and combustion of coal and fossil fuels, vehicle emissions, etc. generate smoke. They release toxins such as NOx, SOx, VOCs, CO, etc. This smoke reacts with the sunlight to form photochemical smog, commonly seen in big cities.
What is fog?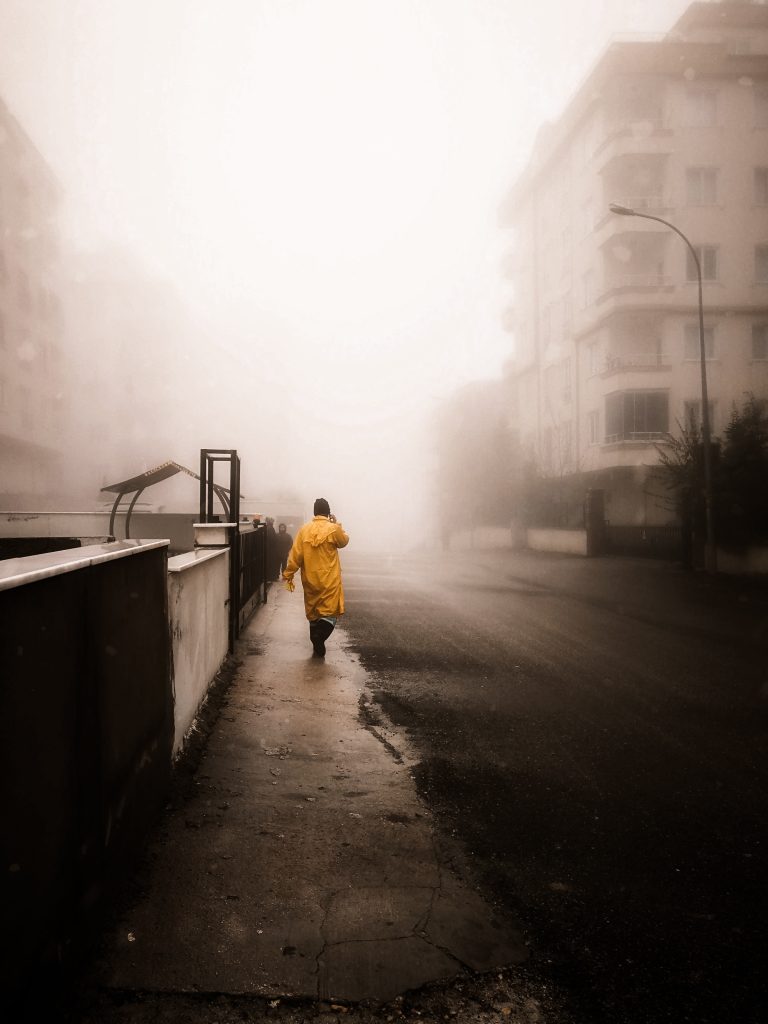 Fog is a complex yet basic meteorological occurrence that reduces visibility to less than 1km. There is always a small amount of water vapor present in the air. But when the tiny aerosol droplets are visible, they reduce the visibility and that is known as fog. Putting it simply, fog is just a cloud laying very low near the Earth's surface. Fog, like clouds, is composed of millions of tiny aerosol droplets or ice crystals. It forms when cold air near the earth's surface condenses water vapor within it. These droplets are light enough to stay suspended in the air.
How is Fog formed?
Thermal radiation cooling of the land when there is a drop in the temperature during the night, which cools the air near the surface, is a typical essential condition for fog development. This decreases the ability of the air to contain moisture or water vapor, which are generally present in the air. It is usually known as humidity. When the air becomes saturated with water vapor, water drops begin to condense. In other words, the gas reverts to the liquid state or water. When these water droplets remain suspended in the air, they form fog, a dense cloud. As a result, fog is described as a visible mass composed of cloud water droplets floating in the air or near the ground.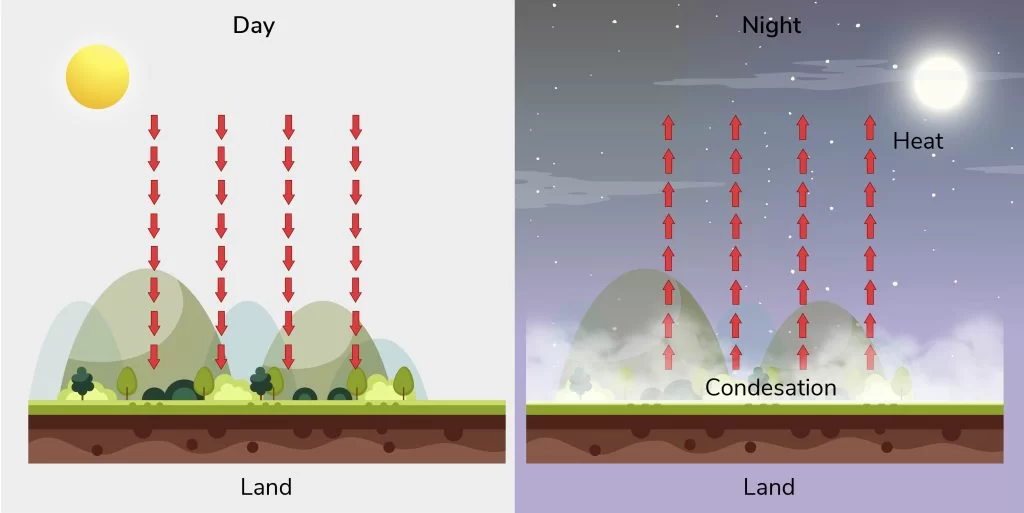 Types of Fog
There are various kinds of fog, and each one forms under a particular set of circumstances based on where it comes from and how it forms. Six distinct types of fog are identified worldwide. On the Indian landmass, however, there are typically two types of fog.
Radiation fog- The water vapor close to the cold ground condenses as it cools at night under clear, cold, and generally calm conditions. This fog is a localized occurrence that occurs usually in the morning and lasts for a few hours.
Advection fog- It is created when humid, hot air travels over a cold surface and cools. When it occurs, the air can no longer retain water and condenses, resulting in fog.
Radiation fog is common in northern India from November to mid-December as well as in February. During the coldest months of the year, North India is shrouded in a mixture of advection and radiation fog from mid-December to mid-January.
What is smog?
Smog is a mixture of fog, smoke and particulate matter. All the non-meteorological occurrences like stubble burning activities, vehicular emissions, and many more, lead to the generation of smog. Inhaling fog would not affect your health, whereas, on the other hand, inhaling smog can cause serious health issues.
When fog is already present in the air, it contains moisture. Smoke and particulates adhere to the moisture particles, further limiting visibility.
In the early times, smog originated from coal burning. It was popular at industrial sites and settings, and it is still common in cities today. Photochemical smog is the term used to describe what we see in cities these days.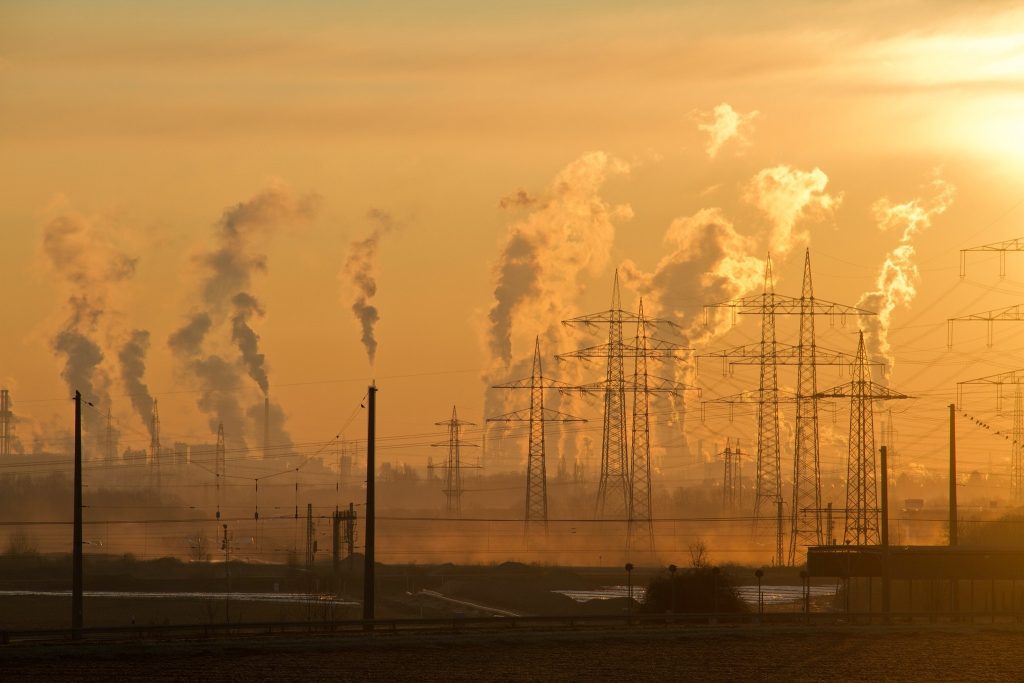 What is smog made of?
Smog is a deadly mixture of smoke and fog. As mentioned above, fog is a form of cloud on the earth's surface containing tiny water droplets. These water droplets have the ability to stay suspended in the air for hours. Smog is an intense form of air pollution, consisting of various harmful toxic gasses such as sulfur dioxide, soot and benzene. The smoke, which would otherwise have been hanging higher in the sky, and the dust particles, which would have landed on the ground, remain suspended in the air as they mix with the fog and generate a photochemical reaction.
Dust and smoke particles stick to the water droplets, making the fog more murky, and inhaling smog over extended periods of time can cause a variety of difficulties, including lung problems. Due to lack of visibility in less than 500 meters, many road accidents are prone to happen in the thick layer of smog.
Fog and Smog: A comparison
When the visibility falls below 1000 meters and the relative humidity exceeds 75%, we call it fog. In contrast, smog is described as the combination of fog and smoke.
| | | |
| --- | --- | --- |
| Basis | Fog | Smog |
| Primarily known as | Condensation | Air pollution |
| Made up of | Tiny water droplets/moisture/water vapor | Smoke, particle pollution, harmful toxins |
| Color | White haze | Yellow-brown haze |
| Harm levels | Is not harmful | Is extremely harmful |
| Air pollutant | It is non-pollutant | It is highly pollutant |
| Is it a chemical reaction? | No, it is not formed from a chemical reaction | Harmful chemicals that form smoke chemically react with the fog, smog is formed. |
How to know if you are breathing in fog or smog?
When you breathe fog in, you won't feel any uneasiness, whereas when you breathe in smog, it causes various discomforts as well as health issues. People may experience an irritation in the eyes, throat as well as the respiratory tract. Smog, which is a mixture of several harmful gases hanging in the air, can have serious long-term consequences if inhaled. That includes lung infection, asthma, bronchitis, pneumonia, and many more. If you already have health problems, extended exposure to smog can exacerbate them. The following are some of the more visible common symptoms of smog exposure.
Coughing or wheezing
Difficulty in breathing
Irritation and itchiness in the eyes, nose and throat
Discomfort while breathing
Chest itchiness
Irritation in the respiratory tract
If these symptoms persist for longer durations, consult a doctor and seek medical attention immediately.
How can you prevent breathing in smog?
Avoid outdoors as much as possible- Smog is an ambient pollutant. One quality of smog is that it is visible to the naked eye, unlike other invisible air pollutants. So, when you see a visible yellow-brownish haze over the sky, avoid outdoors if possible.
It's important to stay hydrated- Experts suggest drinking more water than usual during this time of the year.
Use an effective and right mask- An easy, outgoing and effective air mask is a must when you step outside in the presence of smog.
Seek a doctor if problems persist- If the symptoms mentioned above persist in longer durations, seek medical guidance immediately.
Eat healthy- "You reflect what you eat!" Healthy eating patterns will help in subsiding the effects of air pollution and smog. This includes eating a balanced diet, having fruits and vegetable, and avoid junk food.
Avoid oily foods and junk food, especially if you are exposed to smog and other air contaminants.
Monitor your indoors- We spend more than 90% of our lives indoors. Therefore, monitoring indoor air quality is a must in order to maintain the indoor air quality standards.
Use non-ozone generating air purifiers- Many air purifiers generate ozone. Avoid ozone generating air purifiers as it is an indoor pollutant.
Do not ignore your fitness- Do not ignore fitness at all costs.
Avoid vigorous workouts- Avoid rigorous workouts such as cardio and Zumba workouts in such conditions.