Introduction
Does Diwali cause pollution?
Post-Diwali pollution due to fireworks
Diwali pollution effects on the citizens and the environment
Air quality trends post Diwali
What is the govt. doing for Diwali pollution?
Other factors that affect the air quality post Diwali
What can be done to reduce air pollution due to Diwali celebration
Diwali pollution in Delhi: Citizens dialogue
Introduction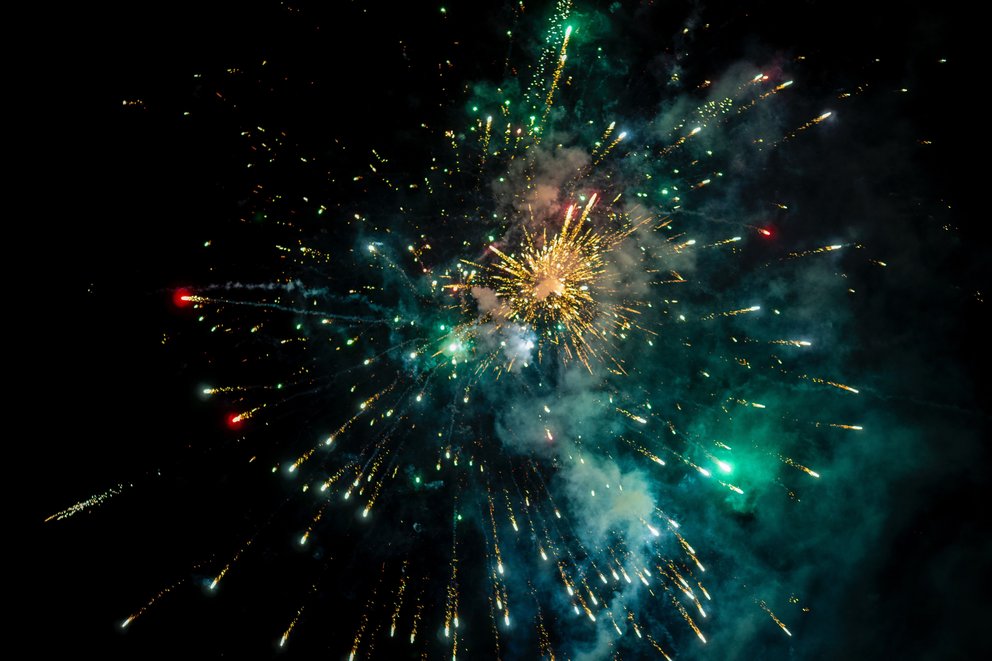 As winter approaches, Delhi's air quality deteriorates. Diwali pollution is getting worse by the day, especially in Delhi. Nobody is in the dark about the situation. Air contaminants are always present in air, however they are not necessarily apparent to the naked eye. In contrast, after the Diwali festival, there is a considerable increase in air pollution. This bad air quality endangers the health of children, the elderly, and other vulnerable groups. When you inhale this heavily polluted air, you may experience physical discomfort and irritation, which can have major health impacts.
Does Diwali cause pollution?
There are numerous sorts of firecrackers on the market. Depending on the chemical used to make them, crackers emit a variety of dangerous air pollutants. These contribute to a rise in the amount of dust and air pollutants in the environment. They produce specific compounds after combustion, including as Cu, S, Zn, and many more, which contaminate the environment and put inhabitants' health at danger, particularly children. They are more vulnerable to the harmful Diwali pollution. The combustion process requires O2 to function.
Diwali pollution due to the fireworks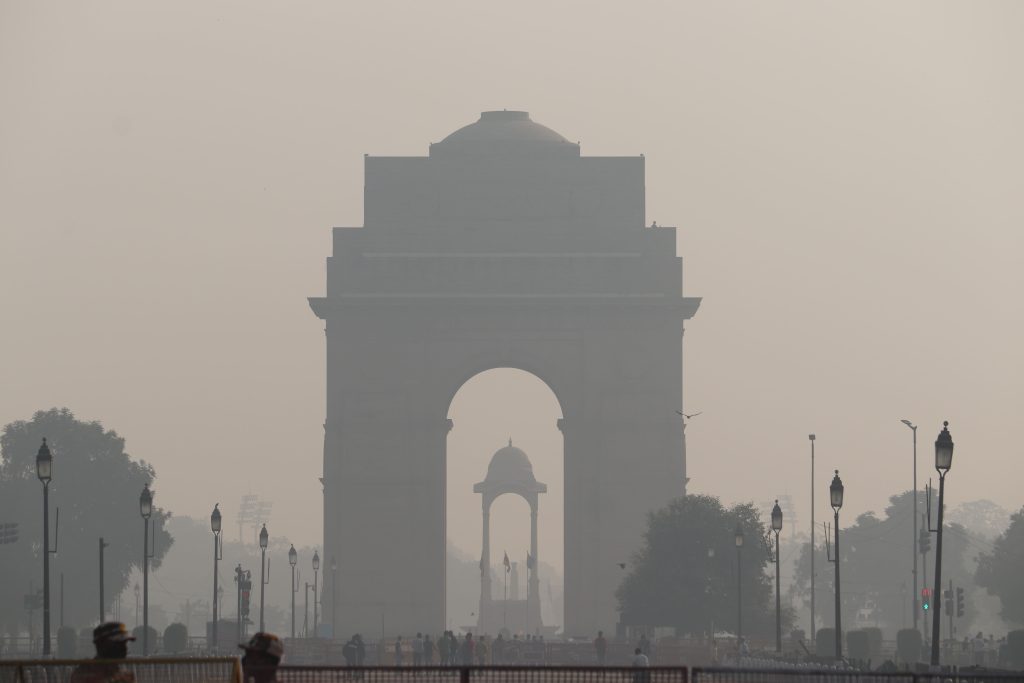 The combustion of firecrackers produces a variety of hazardous gases, including SO2, CO, CO2, and numerous metals and fuses. These release highly dangerous air pollutants and gases, which constrict our lungs by vaporizing poison and polluting the soil and water. This toxin is absorbed by many animals, birds, wildlife, plants that grow in that soil, and so on. As a result, the consequences of a few hours of fun will harm humans, animals, plants, and the entire environment for months. People do not use firecrackers in a responsible manner. The cracker remains cause litter on the roadways and blockage in the drains, leading them to overflow and cause a massive mess. This further goes on to pollute the waters, making them unfit to drink, wash, clean, etc.; this is something the whole country faces.
Effects of Diwali pollution
On the environment: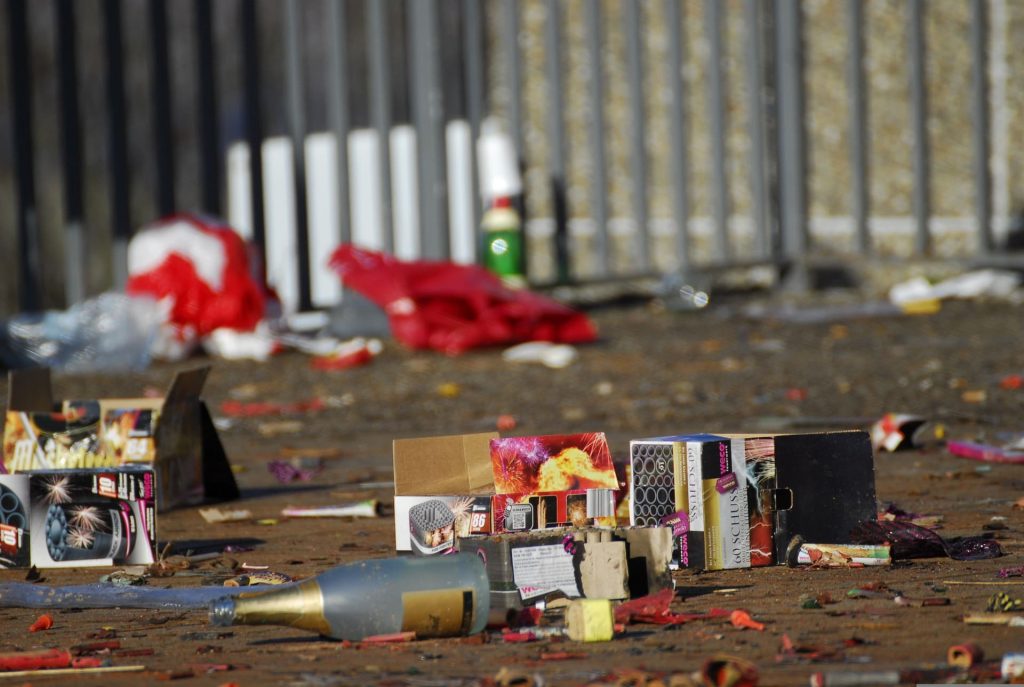 Many pyrotechnics contain oxidizers, which supply the O2 required for combustion and explosion. These oxidizers are perchlorates, which dissolve easily in water and pollute rivers, lakes, and, ultimately, drinking water. They emit chemicals that pollute the air and remain in the atmosphere for days, resulting in fine dust and smoke clouds. As a result, the local air quality suffers. This reduces vision even more and is blamed for road accidents caused by poor visibility.
On the citizens of Delhi: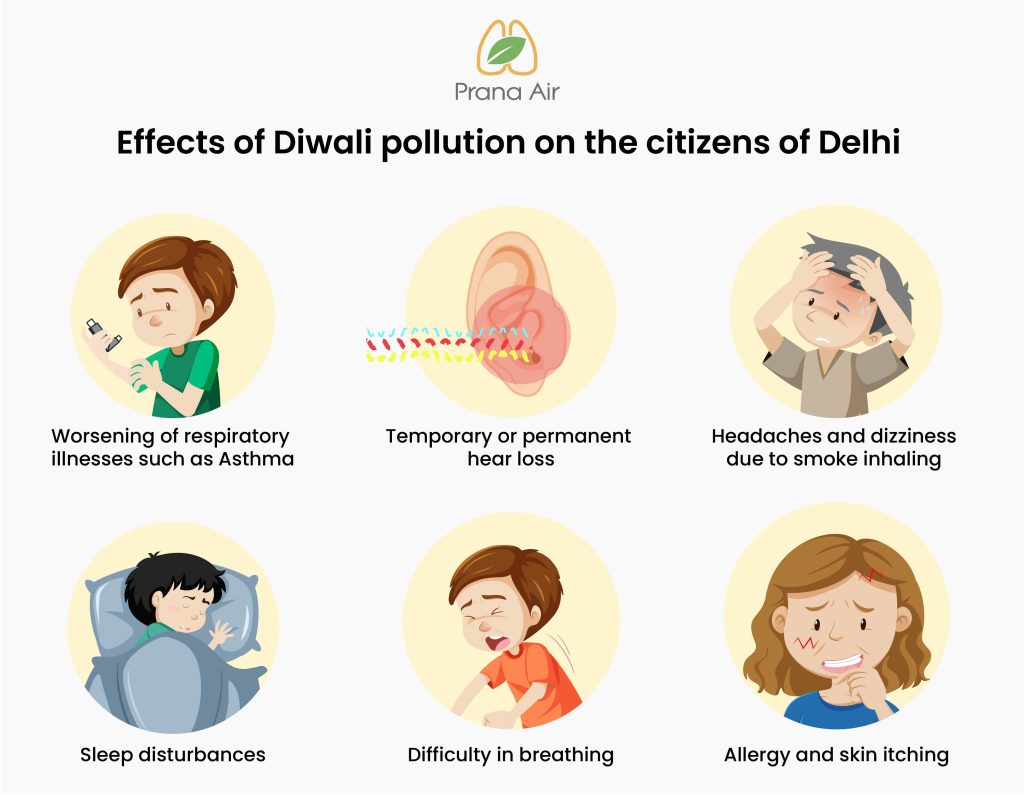 As the air quality in Delhi worsens, residents strain to breathe. O2 is a vital and critical component of survival and good body function. Breathing without a mask in the post-Diwali smog is like directly breathing poison. It is strongly advised not to leave the house without using an anti-pollution mask, particularly in the weeks following Diwali. Citizens have reported the following health effects:
Difficulty breathing as a result of the increased amount of smoke and dust particles produced by firecracker burning.
Worsening of respiratory illnesses such as Asthma
Irritation in the eyes, nose, and throat
Headaches and dizziness due to smoke inhaling
Burning sensation in the eyes
Skin itching and allergies such as eczema
Temporary or permanent hear loss
High blood pressure due to loud noise
Sleep disturbances
Respiratory illnesses such as chronic bronchitis and pneumonia
Air quality trends post Diwali
2019:
Authorities issued a red warning and barred construction operations overnight.
Fireworks were restricted, and only green crackers emitting 30% less pollution were approved.
Kejriwal's govt. announced the launch of efforts to reduce air pollution, such as the odd-even program.
To address post-Diwali pollution in eastern Delhi, EMDC sprayed water on roads in Laxmi Nagar and neighboring areas.
2020
Despite a blanket ban on firecrackers in the Delhi NCR region, the capital's already dirty air worsened dramatically following Diwali, while air quality improved.
People disregarded the NGT's restriction on firework burning, that further caused Delhi's AQI to fall into the 'severe' category.
Crop residue burn and reduced wind speeds have also led to poor air quality.
On October 14, official govt. data indicated that the city's air quality was 'poor.'
Certain contaminants were found in 'very poor' or 'severe' levels in some Delhi districts.
The most afflicted location in Delhi was Rohini, where the AQI reached 999g early in the morning following Diwali celebrations.
2021
The winter air in Delhi averaged 220g of PM2.5, but during the peak of Diwali fireworks on November 11, the readings skyrocketed to more than 700g.
What is the govt. doing for Diwali pollution in Delhi?
The Delhi govt. has launched several measures, including the odd-even rule, a cracker ban, and others, to reduce air pollution, particularly during the Diwali season. This year, the govt. of Delhi unveiled a 15-point action plan to tackle air pollution. Furthermore, Arvind Kejriwal stated that the strategy will serve as a roadmap for the govt. to use in combating air pollution this year.
"The Delhi government's hard efforts have begun to bear fruit. PM10 levels were 18.6% lower in 2021-22 than in 2017-18. We have reduced pollution by providing 24 hour electricity, shutting down thermal plants, regularly inspecting construction sites, convincing industries to relocate to PNG, increasing green cover, enacting an electric vehicle policy, adding electric and CNG buses to our public transportation fleet, and developing smog towers. As a result, I am optimistic that we will defeat pollution with the aid of the people of Delhi "According to Kejriwal.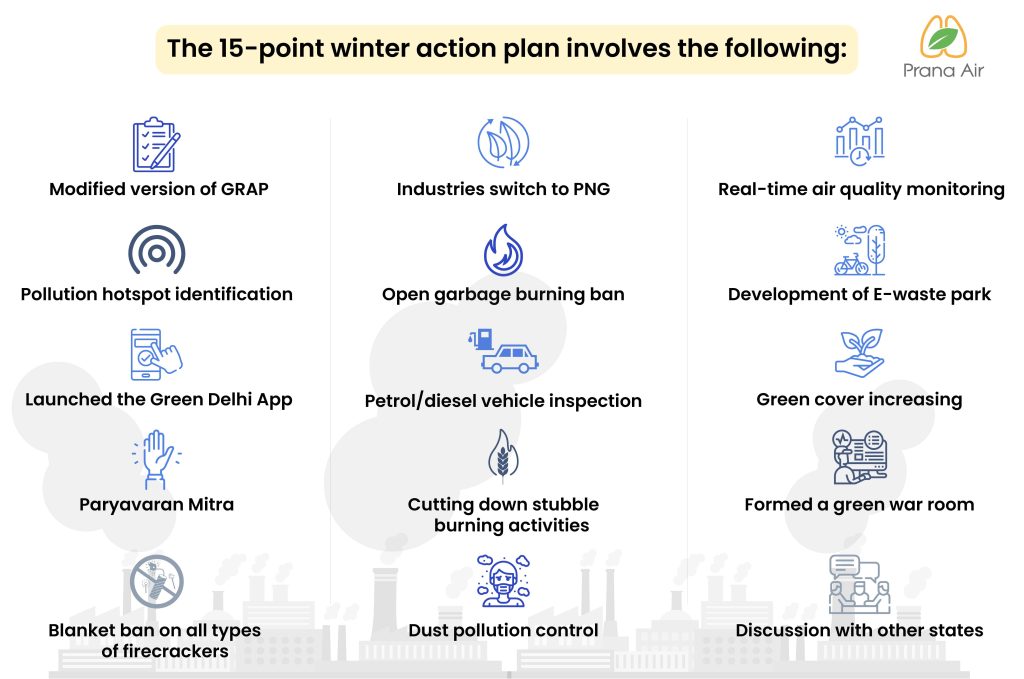 1. GRAP: New and Improved–
The Delhi govt. has proposed updating the present Graded Response Action Plan to a new modified version in order to provide three-day air quality advance warnings.
2. Locating pollution sources–
The govt. has chosen 13 sites in Delhi that will be closely monitored. Furthermore, numerous measures will be put in place to keep concentration levels in specific places under control.
3. Launched the Green Delhi App-
The govt. has designated 13 high-security zones in Delhi. Furthermore, numerous measures will be put in place to keep concentration levels under control in certain locations.
4. Paryavaran Mitra-
The CM roped in 3500 environment volunteers under the 'Paryavaran Mitra' campaign with the motive of raising awareness regarding environment protection.
5. Blanket ban on all types of firecrackers-
Manufacturing, selling, and purchasing of firecrackers has also been prohibited in Delhi till January 1, 2023, with a fine of Rs. 10,000 and Rs. 20,000 in silent zones.
6. Industries switch to PNG-
33 special teams have been assigned to inspect all registered industries and industrial units for PNG conversion and to track down any facilities discovered utilizing polluting oils and fuels.
7. Ban on Burning of Garbage–
The Delhi govt. set 611 teams to monitor compliance with open-air rubbish and waste burning.
8. Petrol/diesel vehicle inspection-
The govt. has organized around 300 teams to strictly examine diesel vehicles older than 10 years and petrol vehicles older than 15 years.
9. Cutting down stubble burning activities-
Cutting down stubble burning and spraying the bio-decomposer sprays on stubble on around 5000 acres this year.
10. Dust pollution control-
To reduce air pollution in the National Capital, 233 anti-smog guns and 150 mobile anti-smog guns will to be installed.
11. Development of electronic waste or E-waste park-
E-waste will be treated in a scientific fashion to develop a 200 acres of E-waste park in the Holambi Kalan area.
12. Increasing greenery-
"Delhi administration plans to plant 42 lakh saplings in order to boost the city's green cover," said the CM.
13. Formed a green war room-
Delhi's CM Arvind Kejriwal said that a gun room has been established comprising 9 scientific experts to monitor the situation at hand.
14. Discussion with other states-
A dialogue among the federal and state govts. to plan strategies for measuring, monitoring, and improving air quality in the National Capital and NCR regions.
15. Real-time air quality monitoring-
Delhi govt. with the help of IIT Kanpur will conduct a study that will monitor the air quality in real-time. Collection of samples in order to identify various sources of pollution in the Delhi NCR region.
Note- You may easily monitor the real-time air quality of your facilities, both inside and outside, so that you can maintain air pollution levels and satisfy guidelines. This will allow you to identify the types of contaminants in your environment and take the required steps to reduce them.
Air quality monitors will help you monitor the air pollutants in real time. If you don't want to buy them, you can go for the rental option as well.
Other factors that affect the air quality post Diwali
Diwali pollution in Delhi and other states adds to the overall air quality of the city. But many other factors also affect the air quality. These include:
Cold weather-
Colder air has the ability to trap more air pollution as compared to warm weather. That is why air quality dips in the cold weather.
Stubble Burning from neighboring cities-
In India, Punjab and Haryana produce a significant share of the country's food grain supply. Many farmers burn crop debris after harvest to quickly prepare the field for growing fresh crops. Because of the city's geographic location, all of the smoke and dust particles released into the air as a result of stubble burning are transferred to the city's air, leading to smog.
Wind Speed-
The air quality is determined by the wind speed. That is, the speed of the wind has a significant impact on the air quality in that area. If there are dust particles and smog in the air, swiftly moving air will carry them with it. Pollutants will linger in the area if the air does not have enough pressure to move them away.
Wind Direction-
The wind direction determines the direction of flow of the pollutants the air carries. A good example of this is the winter winds from the west that carry stubble burning residual from neighboring cities to Delhi's air.
Our habits-
Because of the cold weather around Diwali, many people burn wood and coal to keep warm and protect themselves from the cold. The combustion of coal and wood emissions adds to the deterioration of air quality.
Already existing factors-
As a metropolitan metropolis, the number of automobiles on the road and their emissions are increasing on a daily basis. More automobiles increase the likelihood of traffic congestion. Creating a location with poor air quality in comparison to adjacent locations. Imagine the number of spots increasing as the number of private vehicles on the road increases, all contributing to the worsening of air quality.
Steps taken that can prevent Diwali pollution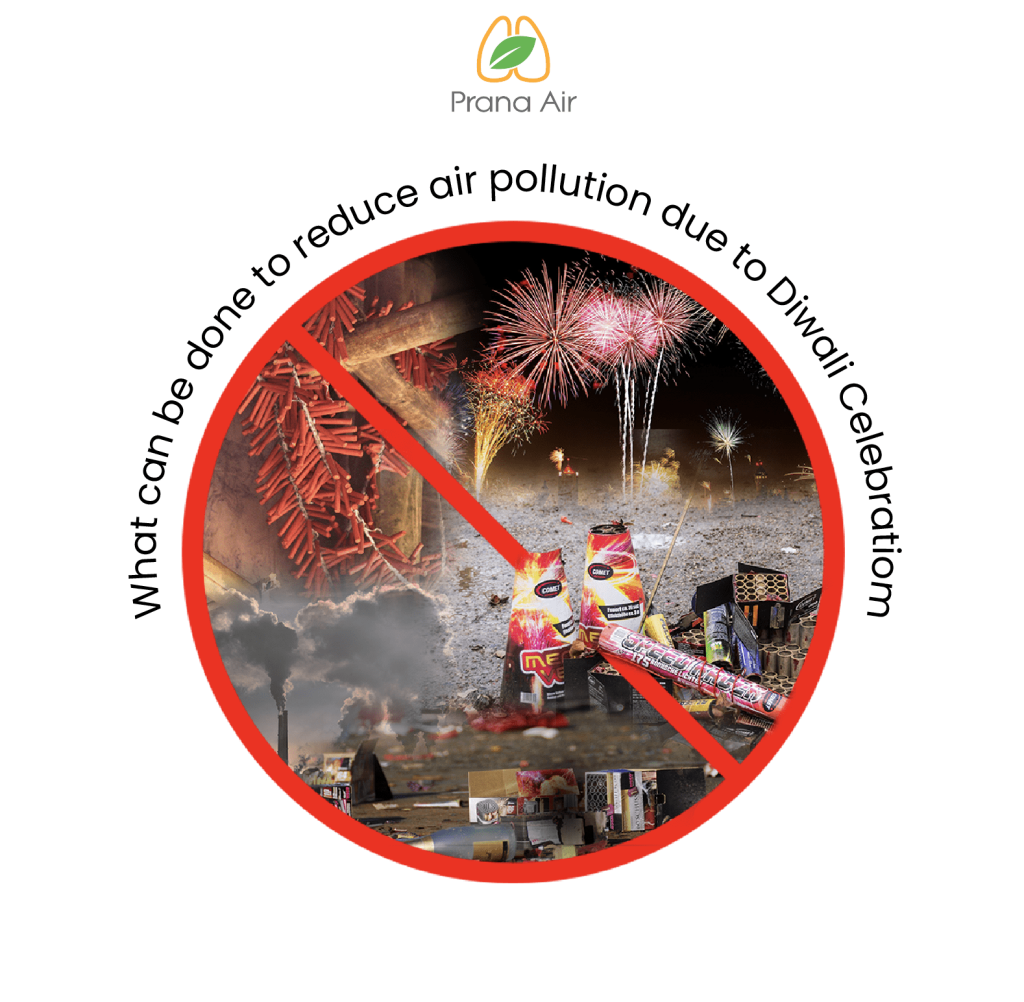 Every year, the same issue arises. After Diwali, Delhi's already polluted air gets even worse. The AQI in Rohini reached 999 early the next morning, the day after Diwali in 2020.
Curbing illegal factories and industries.
Residents must accept accountability. For eg., the Delhi govt.'s total ban on burning, producing, and selling firecrackers must be severely enforced.
The govt. should make sure to clean any improperly managed garbage dumps to ensure proper sanitation that will help in reducing many diseases.
Let's start a new healthier tradition this Diwali by lighting lamps and diyas instead of crackers. Spread happiness, not poisonous air, by sharing sweets! Let us all stand with the govt. and adopt environmentally friendly choices.
Diwali pollution in Delhi: Citizens dialogue
"A thick layer of fog engulfs Delhi NCR, reducing visibility to less than 2 kilometers." The Delhi NCR sky was blanketed in pollution. Even in the open air, you feel suffocated, and we can't operate without a mask, which also affects our eyes."
A resident of Delhi, October 2020
"Exercise is necessary for our bodies to function correctly." It is hard to exercise in this air while wearing a mask, yet the air is far deadlier without one."
Solution– Mask up!
When the air quality deteriorates, it is critical to wear a mask. Motorized N-95 anti-pollution masks will not only protect you from poisonous air, but will also allow you to breathe and exercise while breathing pure air!